Adding Goals from Admin
In the Admin, you can add and manage goals. This tutorial will walk you through how to add and edit goals from the Admin. You must be logged in as an Admin to add goals from here.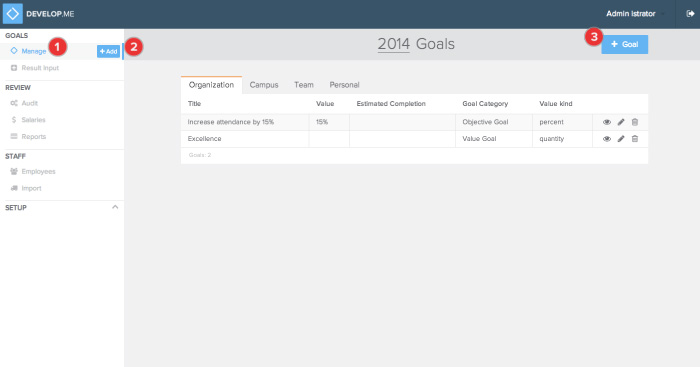 1. To access add a goal, go to the "Goal" section in the left hand column of the Admin and select "Manage"
2. To add a goal, click the "+ Add" button to the right of "Manage"
3. You can also select "+ Goal" in the top right hand corner
1. "Title" is where you will name the goal you are wanting to create
2. "Description" allows you to add a brief description of what the goal is and what you are wanting to track.
3. "Type" is the version of goal you are creating for the organization. Depending on what goal type you chose, your drop down options might look a little different. For this example, we are using "Campus".
4. "Estimated Completion" is where you can set and end date for the goal. If your review goes until December but you think that you might finish the goal in August, you might consider adding an estimated completion date.
5. "Measurement" is where you will set the measurement type for the goal. There are three types of measurement "quantity", "percent", and "currency".
6. "Team" is the group that the Goals should be associated to, "Teams" are generated by you and can be set in the Admin.
7. "Review Year" is the year in which the goal should be set.
8. "Category" is the type of goal you are creating. There are two types of goals: "Value" - a goal that does not have a measurable number value. "Objective" is used for goals that do have a measurable numeric value.
9. "Goal Amount" is the value at which you want to set your goal. This is numeric and can contain no special characters.
10. "Campus" is the campus this goal is set to.
11. Save!
---
---